A Family of Candy Makers SINCE 1963
Closed Thanksgiving Day
11am - 8:00pm SUN - THURS
11am - 9:30pm FRI & SAT
731 SUTTER STREET FOLSOM, CA 95630 916-985-0620
Nestled near the shores of the American River Parkway and Lake Natoma is our Store & Factory where confections are made on view to the public.
100% Gluten Free
All of our products are gluten free.
Founder John Snook
It was the 1960's and in addition to the original storefront at Arden Fair inside the Food Circus, John and Jeannine Snook set up shop at the California State Fair to sell their thinly stretched Peanut Brittle. He cooked it on site in the copper kettle.
In the picture he is serving the Maid of California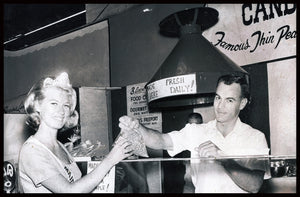 Take a Virtual Tour of our Candy Shop Below!
**Simply click on the image and drag in the direction you want to look. To move forward, place the cursor on the ground and click in the direction you want to walk.**